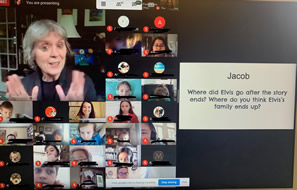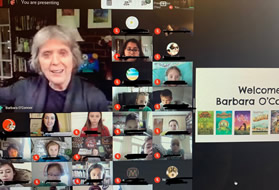 Presentations are 50 minutes, which includes Powerpoint and 15 minutes of Q&A.
Barbara will work with teachers to give students a positive, worthwhile experience whether they are doing in-person classes or learning from home. She can offer the presentation virtually in a few different ways, depending on circumstances.
Barbara's virtual presentations are best suited for grades 3 thru 5 and include all of the elements of her in-person visits:
Visuals of some of her childhood writing
The inspiration behind each of her books
How authors use real life events in fiction stories
The importance of revisions (including samples of her manuscripts marked for revision by her editor)
Her all-time favorite, sure-fire writing technique with plenty of student involvement
Fifteen minutes of Q&A with students
Worksheets for teachers to use for following-up in classroom
Scheduling
For information and scheduling, please contact The Author Village.
Please note
School is responsible for "hosting" the virtual visit and sending a link to the scheduled visit at least three days prior.
The presentation must be moderated by an adult during the entire presentation.
You will receive a contract and invoice prior to the scheduled visit.
Payment is due within one week following the virtual visit.
You will receive specific instructions for host controls of Zoom or Google Meet at the time of booking.
Please, no recording of presentations!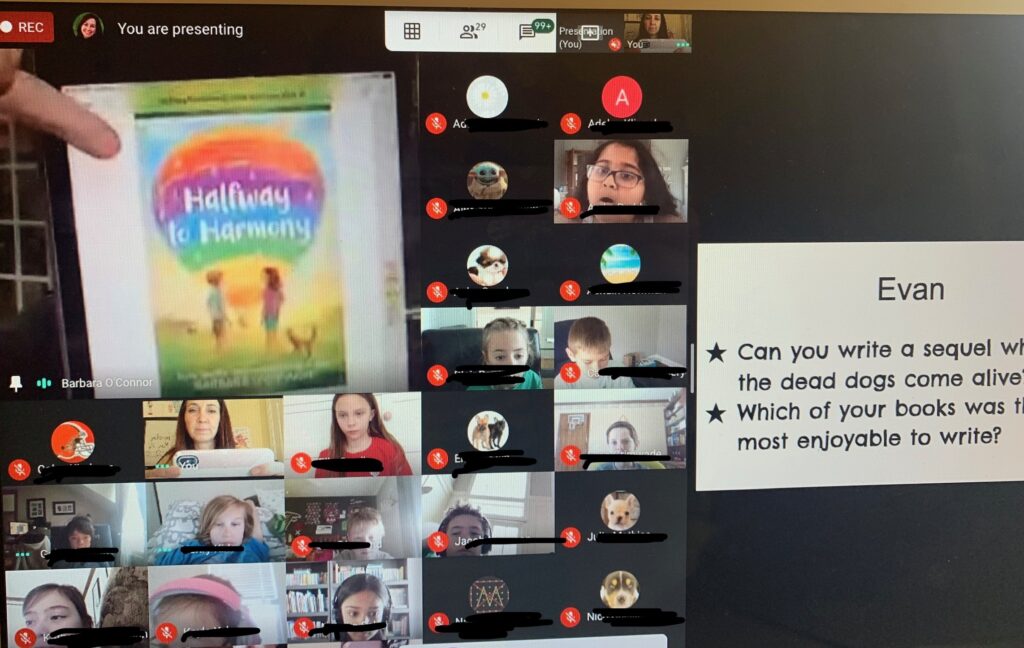 "What a privilege it was to have Barbara O'Connor speak to our 4th grade classes! Her visit was virtual due to our schools being closed, yet Mrs. O'Connor still managed to thoroughly engage and inspire the students with her likable personality and great writing tips. Our teachers could not stop raving about how Mrs. O'Connor's presentation reinforced everything the students were learning remotely. Mrs. O'Connor happily answered all the kids' questions and it was obvious that she genuinely cares about supporting and teaching children. This was hands down one of the best author visits we've had at our school."
Debbi Tsekrekas, PTO Vice-President
Hemenway Elementary School, Framingham, MA
"My students loved meeting with Barbara O'Connor on Google Meet. Her presentation was engaging and tailored for my 4th grade students. She shared interesting anecdotes about the inspiration behind her books, and encouraged my students to do the same. She taught practical writing tips to my students, and even allowed them time to create "show not tell" sentences. My students had lots of questions, and she happily answered them. For a virtual visit, it felt very personal! It's obvious that interacting with students brings her joy. Thank you, Barbara O'Connor for inspiring my young readers and writers!"
Donna Johnson, 4th grade teacher
"What an experience it was for our students. Even though her visit was virtual, she made it feel very personal. The ideas of 'show don't tell' she shared with our students were so good. They loved coming up with example sentences to share with her. Our students also loved being able to ask questions. It was as if she were in each of our classrooms! An experience they will never forget!"
Lisa Garza, 4th grade teacher
"Barbara O'Connor is always a favorite author visitor at our school. Without in person as an option, it wasn't even a question, virtual it is! All our 4th grade students had the opportunity to learn from Mrs. O'Connor, ask questions, and make connections. She was amazing at interacting with the students through the screen and teaching them about the process of writing. By far one of our highlights of the school year!"
Mary Bridget Maddan, Elementary Media Specialist