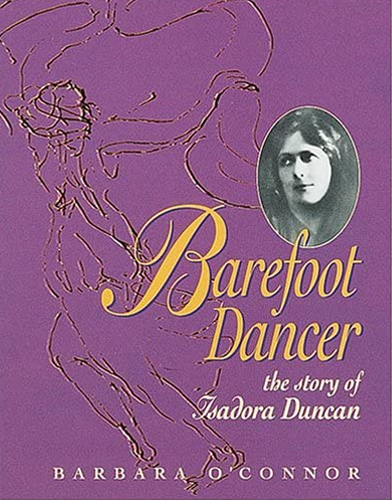 CarolRhoda Books, 1994
Library Binding: 978-0-8761-4807-5
Grade Level 5-8
Barefoot Dancer:
The Story of Isadora Duncan
Available in library binding
Describes the life of the modern dancer Isadora Duncan who created a spontaneous, free-form dance style accompanied by literary readings and non-dance music.
Isadora Duncan: The Dancer of the Future
Loretta Thomas performs Mother
(choreography Isadora Duncan)
Booklist
Mary Harris Veeder
From her idiosyncratic childhood to her dramatic death (she choked to death when her shawl caught in the wheel spokes of a Bugati), Isadora Duncan was unlike anyone else. Illustrated with numerous photographs, O'Connor's biography explains how Duncan's dance and her personal life were unusual for the timesthough they may not seem so to the MTV generation. O'Connor, who does a fair job presenting both, is especially interesting when discussing Duncan's need for lovers and children, and her lifelong financial difficulties. Additional detail about Duncan's dance contemporaries and her method of training dancers would have been interesting, but this picture of Duncan as an artist driven by differences she's unable to nurture leaves a strong and sad impression.
© 2000 Reed Business Information, Inc.
Kirkus
An evenhanded biography of the famed dancer and choreographer, Isadora Duncan. In clear, accessible language, O'Connor traces the life of her subject from her unconventional childhood in 19th- century San Francisco through her many travels, triumphs, and tragedies in both Europe and America. Much is made of Duncan's innovations as a dancer, but a more extensive discussion on ballet dancing at the time would have been helpful to place her achievements in context. The photographs, while excellent, are too sparse and too small; they would have profited from being enlarged in both format and number. Still, a useful text about an important contributor to the rhetoric of modernism. Notes; bibliography; index.